Chaseville
Railroad town[1] in Kansas[2] in 1872.[1]
Situated on Salt Creek, first established in February of 1868 as Chase Station for the Brasada Spur. Named for Chief Justice and Secretary of the Treasury, Salmon Chase.[2]
The first locomotive arrived at Chase Station on February 6, 1868. By July of 1871, a few ranches began to appear in the area and a small town grew around the station to provide supplies to the ranchers. The town was officially named Chaseville on July 23, 1871.[2]
​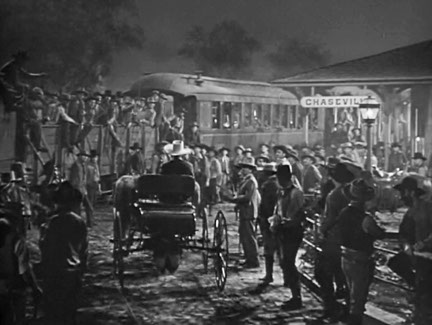 ABOVE: The Brasada Spur station, Chaseville,1872.[2]
In September of 1872, Bart Maverick and Roy Stafford organized a group of Brasada Spur men and local ranchers to take a train up the Brasada Spur line to stop a mob of Great Western Railroad men from destroying Brasada Spur stations.[1]
With the dissolvement of the Brasada Spur in 1874, Chaseville was eventually abandoned. Today, nothing remains on the site of Chaseville or its rail station remains,[2] and has become farmland.[1]
See: Brasada Spur.