SOURCE REFERENCES
01. "Timeline: Early Chicago History" Chicago: City of the Century. WGBH Educational Foundation And Window to the World Communications, Inc.. 2003. Archived from the original on May 26, 2009.
02. McCafferty, Michael, A fresh look at the place name Chicago, Journal of the Illinois State Historical Society, Summer 2003
03. Library of Congress, Chicago, Illinois, circa 1870; A House Divided, a Civil War Research Engine at Dickinson College
04. Maverick, War of the Silver Kings (1957), Warner Bros. Pictures, Inc.
05. Maverick, Point Blank (1957), Warner Bros. Pictures, Inc.
06. Maverick, Brasada Spur (1959), Warner Bros. Pictures, Inc.
Chicago
Large port city on the shore of Lake Michigan in Illinois.
Founded on August 12, 1833 near a portage between the Great Lakes and the Mississippi River watershed, incorporated as a city on March 4, 1837.[1]
Named after the French rendering of the Miami-Illinois Indians' word shikaakwa, their term for the wild leek, but literally means "striped skunk," for the Chicago River's smell of onions. [2]
​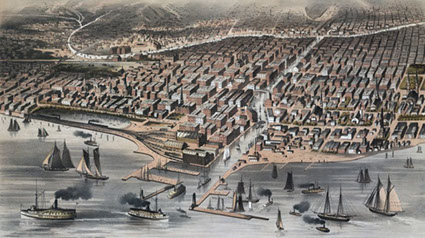 ABOVE: The City of Chicago as it was before the great conflagration of October 8th, 9th, & 10th, 1871.[3]
War of the Silver Kings: In January of 1870, Bret Maverick had his first black broadcloth coat tailored for him in Chicago. His name and the city's name were embroidered inside.[4]
Point Blank: in July of 1871, Bret Maverick, judging Molly Gleason to be too sophisticated to be from such a small town as Bent Forks, guesses that she was from Chicago before she informs him she was from St. Louis.[5]
Brasada Spur: in September of 1872, Bart Maverick traveled to Chicago from King City, Kansas, to arrange a scheme to lure Rufus Elgree out of town. Bart had a false telegram sent from "Blackburn" at the Union Club to entice Elgree to meet him there to discuss the manipulation of Brasada Spur stock. While Elgree followed the false trail to Chicago, Bart and Roy Stafford established binding contracts with Elgree's Great Western Railroad for shipping cattle at extremely undercut rates. Upon learning the was, in fact, no such person as Blackburn, Elgree returned to King City.[6]