Cimarron
Trail town in northern New Mexico Territory in 1876.[1]
Situated along the mountain route of the Santa Fe Trail on the site of the original Beaubien-Miranda Land Grant.[1]

In 1848, fur trader Lucian B. Maxwell came to the Beaubien-Miranda Ranch where he met and married Luz Beaubien, one of the ranch owner's six daughters. In 1857, Maxwell attained controlling interest in the land grant and began to develop it, building a mansion, hotel, gambling rooms, a saloon and a designated section for women of "special virtue."[1]
Cimarron was officially established in 1861 when the U. S. Post Office came to town,[2] naming it for the Spanish word cimarron, meaning "wild" or "untamed."[1]
Gold was discovered on Baldy Peak in 1866, some twenty miles northwest of Cimarron. With the increased mining traffic along the Santa Fe Trail, Cimarron boomed and became a haven for lawlessness.[1]
​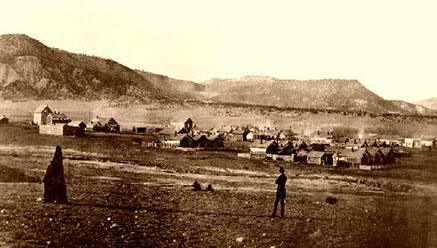 ABOVE: Cimarron, New Mexico Territory, c1876.[1]
The Jeweled Gun: In April of 1876, Bart Maverick and Daisy Haskell arrived in Cimarron[3] by stage while traveling from Santa Fe on their way to Laramie, Wyoming Territory. Snopes, a former groom of John and Daisy Haskell in Philadelphia, happened to have established a stable in town and recognized Daisy[4] as she checked into the St. James Hotel[3] with Bart Maverick, who he knew not to be John Haskell. Daisy shot and killed Snopes when he tried to blackmail her to keep his secret.[4]
The Day They Hanged Bret Maverick: In September of 1876, Bret Maverick and Molly Sharp arrived[5] in Cimarron[3] on their first night traveling by stage from Hallelujah, New Mexico Territory to Santa Fe. Trying to gain Molly's confidence so he could locate the Wells Fargo money her husband, Cliff Sharp, had stolen and clear his name, Bret dined with her in town.[5]