Clayville
Mining town in southwestern New Mexico Territory in 1878.[1]
Founded on March 18, 1855, five miles north of Big Hatchet Peak in then-south-central New Mexico Territory, to take advantage of the discoveries of gold, silver and turquoise in Hatchet Valley to the east.[2] Named after Henry Clay, for his involvement in drafting the Compromise of 1850 and the establishment of the New Mexico Territory.[1]
​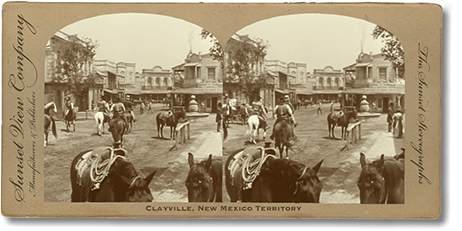 ABOVE: 1878 stereograph of the town of Clayville.[1]
Relic of Fort Tejon: In July of 1878,[1] Bret Maverick visited Clayville[3] on his way from Sweetwater, Arizona Territory[1] to Silver Springs,[3] New Mexico Territory.[1] While there, he got into a poker game with Mr. Brimmer, who sold him a "pure-bred Arabian mount" for $200 as a stake to stay in the game. Bret found out later that the mount was actually a camel named Fatima.[3]
The harsh desert environment made the mining of minerals increasingly difficult as they began to play out by the 1890s. After the turn of the century, the El Paso and Southwestern Railroad ran its tracks to the north, and the town dried up.[1]
Nothing remains of Clayville today but the cement foundations of a few deserted buildings.[1]