Corpus Christi
Port town in Texas.[1]
Situated on the Gulf Coast of Texas. Spanish explorer Alonso Álverez de Pineda discovered the site on the Catholic feast day of Corpus Christi (the Body of Christ) and gave its name to the settlement in 1519.[1]
Founded in 1839 as Kinney's Trading Post to sell supplies to Mexican revolutionaries camped nearby. During the Civil War in August of 1862, the Yankees established the Union Blockade in Texas and bombarded Corpus Christi by sea. The town had been nearly evacuated before the attack, but returned to rebuild afterwards. Corpus Christi adopted a city charter in 1876.[1]
​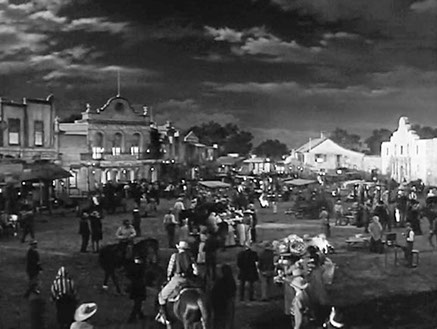 ABOVE: Corpus Christi, 1877.[2]
Escape to Tampico: In June of 1877, Bret Maverick told Paul Brooks in Tampico, Mexico, that a woman in Corpus Christi had asked Bret to deliver a note to Brooks containing half a $500 bill as an enticement him to visit her. As soon as Brooks left for Corpus Christi, Bret applied for and got Brooks' job as dealer at La Cantina Americana.[2] In July,[3] Amy Lawrence left Steve Corbett in Tampico with a note telling him she had gone away to Corpus Christi and not to follow her. Deeply in love with her, Corbett sailed on the next boat to Texas. Knowing it was a trap, Bret followed Corbett and found him at Roul Gireaux's Corpus Christi residence. Corbett had confessed to the crimes that had forced him to flee to Tampico and, at gunpoint, told Bret to let him go free. Finally realizing Corbett was guilty, Bret could not let him pass and was forced to kill him in self-defense.[2]
Today, Corpus Christi is the fifth-largest U. S. port and is home to a U.S. Navy air station and the USS Lexington Museum.[4]