Council Bluffs
Railroad town in Iowa.
Situated on the eastern bank of the Missouri River. The first white settlement was a trading post and ferry landing called Traders Point in 1824.[1]
Mormons began to enter the area in the late 1840s and by 1848, had come to name the town Kanesville, after Thomas L. Kane, their benefactor who had negotiated permission from the U. S. government for Mormons to camp upon Indian land during the winter of 1846 – 1847. Kanesville became the primary supply and launching point for the Mormon Exodus into Utah beginning in 1847. The town grew as virtually all western migration passed through or near the town.[1]
By 1852, most of the Mormon population had moved on to Utah, but the town continued to serve as a major supply depot for the burgeoning California Gold Rush, as well as facilitating a strong steamboat trade. That year, the town was renamed Council Bluffs, in honor of the 1804 meeting between the Lewis and Clark Expedition and the Otoe Indians twenty miles up the Missouri River.[1]
Council Bluffs became a major railroad hub with the arrival of the Chicago and North Western Railway in 1867, the transcontinental railroad in 1869 and the opening of the Union Pacific Missouri River Bridge in 1872.[1]
​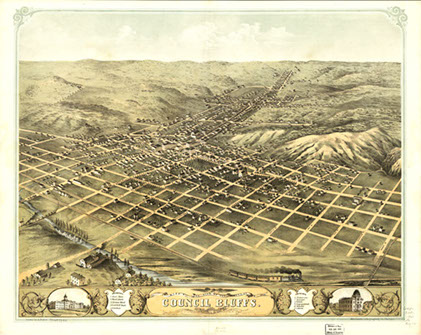 ABOVE: Council Bluffs, 1868.[2]
Stampede: In March of 1877,[3] Noah Perkins left his home in Council Bluffs due to psychological bullying due to his large physique.[4] In April,[3] Tony Cadiz recruited Battling Kreuger in Council Bluffs and boarded the Dakota Queen, bound for Fort Pierre.[4]