Denver
Capital city of the Colorado Territory.
In early July of 1858, prospectors discovered a placer deposit yielding about 20 ounces of gold near the future site of Denver, then part of Kansas Territory, precipitating the Pike's Peak Gold Rush. Beginning that summer, a number of settlements sprang up in the vicinity, taking advantage of existing trails created by the seasonal movements of the Cheyenne and Arapaho.[1]
In November of that year, one of these settlements — St. Charles — was claimed by Kansas land speculator William Larimer. The settlement was renamed it Denver City, after Kansas Territorial Governor James W. Denver.[1]
Larimer and his associates platted out the area and sold parcels to merchants and miners. The town grew and became a major supply hub for the new gold rush. In November of 1859, Denver City secured the first overland wagon route into the area, offering daily service for "passengers, mail, freight and gold." With the new accessibility, Denver City's rapid growth was assured.[1]
On February 28, 1861, an organic act of Congress organized the Territory of Colorado, separating it from the newly admitted State of Kansas. Colorado City was named the territory's capital. On November 7, it became incorporated. In 1862, Golden City became the federally recognized capital for economic and military reasons.[1]
​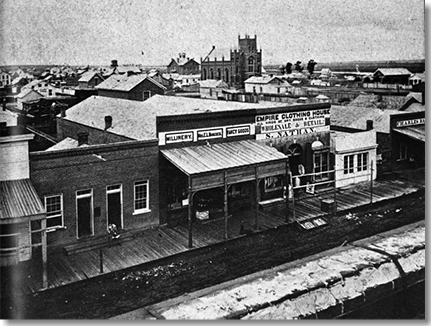 ABOVE: Denver c1866, looking southeast across Larimer between 14th and 15th.
In the summer of 1867, the site of Cheyenne — then in the Dakota Territory — was platted out in anticipation of the coming Union Pacific Railroad.[2] Even before the railroad arrived, the tent city of Cheyenne — only a hundred miles north of Denver City — was believed to soon become an important gateway to the East. The Denver-Cheyenne and Laramie stage line was established to link the two important transportation hubs until the Colorado Territory would have a railroad of its own.[3]
Trail West to Fury: As far away as Little Bend, Texas, the Denver-Cheyenne and Laramie Line was advertised as an important travel corridor. Jessie Hayden hung a poster for the new stage line in his general store in early August of 1867.[4]
As Denver City grew in population and as a transportation hub, it was designated the territorial capital in late 1867. With its new notoriety, the city shortened its name to Denver.[1]
The Thirty-Ninth Star: In July of 1876, Bart Maverick was traveling to Denver for a very important poker game at the Brown Palace Hotel, for which he was late.[5]
Hostage: In April of 1879,[3] while building his ruse to convince Jody Collins that he and Brother Bart are professional criminals, Bret Maverick suggested that Collins team up with Bart and him and exploit the wealth of Denver's silver kings.[6]
SOURCE REFERENCES
01. Denver, Inside and Out (June 15, 2011), the Colorado Historical Society
02. History of Cheyenne, The City of Cheyenne, Wyoming (retrieved April 6, 2014)
03. The Conjectural Maverick, Maverick Trails
04. Maverick, Trail West to Fury (1958), Warner Bros. Pictures, Inc.
05. Maverick, The Thirty-Ninth Star (1958), Warner Bros. Pictures, Inc.
06. Maverick, Hostage (1957), Warner Bros. Pictures, Inc.