Dodge City
Cattle town in 1872 platted a few miles west of Fort Dodge in Kansas for grazing land near the Santa Fe Trail and Arkansas River, and to take advantage of the coming Santa Fe Railroad.[1]
On June 17 of that year, George M. Hoover opened the first saloon, drawing soldiers from nearby Fort Dodge. By the time the railroad arrived in September, the town was already bustling and ready for business.[1]
Texas cattle herds began immediately to take advantage of the railhead in Dodge City, making their drives shorter, affording fatter cattle and higher prices for shipment to market, and the town boomed in its earliest days.[1]
​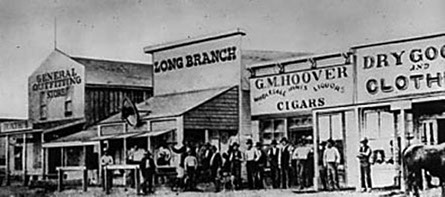 ABOVE: Dodge City, 1874[1]
Stage West: In October of 1872, Angus[2] McLean arrived in Dodge City and opened a popular restaurant, serving the choicest beef and buffalo[3] through his friendly connections with the cattle industry.[2] McLean operated his business until selling out[3] in July of 1875 to get away from the lawlessness pervading Dodge City, and to take advantage of new opportunities in Twin Bluffs, Nebraska, nearer the soon-to-be booming gold fields of the Black Hills. Dodge City residents[2] Dave and Ella Taylor joined McLean on the Tomah stage,[3] traveling to visit relatives in Twin Bluffs. Linda Harris arrived in Dodge City from Boston[3] in July of 1875.[2] On her way[3] to Nebraska[2] to reunite with her husband, Sam, who had sent for her after striking what he believed to be a million-dollar gold mine on Indian land in the Black Hills, she happened to travel on the same stage as McLean and the Taylors[3] for northern Nebraska.[2] There, after learning her husband had been killed, she returned with $15,000, procured for her by Bret Maverick, to Dodge City on her way back home to Boston.[3]
In August of 1875,[2] Bart Maverick played poker with Mitchell in Dodge City.[4]
By 1876, the bulk of the cattle industry had shifted west from Ellsworth and Wichita, Kansas, to Dodge City, due to an tick infesting much of the cattle coming to market from further east.[5]
SOURCE REFERENCES
01. Dodge City: The Early Years, 1872 – 1886 (October 29, 2009), Wm. B. Shillingberg, The Arthur H. Clark Company
02. The Conjectural Maverick, Maverick Trails
03. Maverick, Stage West (1957), Warner Bros. Pictures, Inc.
04. Maverick, The Jeweled Gun (1957), Warner Bros. Pictures, Inc.
05. Kansas Legends: Dodge City — A Wicked Little Town, Legends of America (retrieved June 30, 2014)
06. Dodge City, Kansas, DodgeCity.org (retrieved January 3, 2015)
ABOVE: Fort Dodge, c 1865[1]
The Jeweled Gun: In April of 1876,[2] Mitchell was a stagecoach passenger[4] along the Santa Fe Trail[2] through New Mexico Territory with Bart Maverick who traveling under the name of John Haskell. Mitchell recognized him as a man he played poker with some time before in Dodge City.[4]
Lawlessness had become rampant in Dodge City. The town achieved a semblance of order under the authorities of legendary lawmen such as Wyatt and Morgan Earp, Bat Masterson and Charlie Basset.[5]
The Great Western Cattle Trail evolved with the Kansas cattle towns, bringing ever-increasing herds to Dodge City. The boom peaked in 1884, after which the westward movement of the cattle industry and the growth of the railroads. In 1885, a cattle quarantine extended across Kansas and the cattle trails were cut off. By 1886, the cattle had moved further west and, other than its colorful history, Dodge City became just another Kansas town.[5]
Today, thanks to its cowboy heritage, Dodge City enjoys a thriving tourist trade.[6]