Grantsville
Cattle town[1] in Utah Territory,[2] visited by Bart Maverick in 1876.[1]
Situated south of the Great Salt Lake, it was first established as Twenty Wells in 1848 as a site for grazing livestock, so named for the many artesian springs in the area. Settlement began in 1850 as one of Brigham Young's Mormon colonies and became known as Willow Creek. Three years later, it was renamed Grantsville after Utah militia leader George D. Grant.[3]
​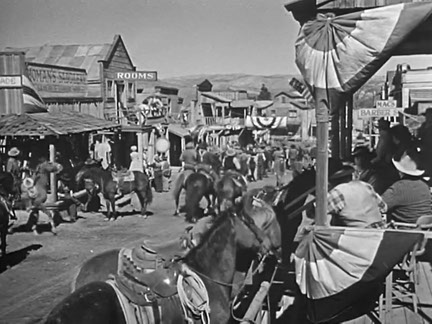 ABOVE: The ghost town of Gifford, Utah Territory, 1876.[1]
In July of 1876, Bart Maverick traveled through Grantsville on his way to an important poker game in Denver. On the evening of July 3, he won $600 at poker from Charles W. Farfan. While waiting for the stage on the morning of July 4, he listened to a public speech given by Judge Somervell, predicting statehood for the territory by the same time the following year. Bart took the stage from Grantsville[1] to Salt Lake City[2] with Farfan, Somervell, Janet Kilmer and Quincy Bigelow later that morning.[1]