Gunsight
Frontier town in Texas,[1] visited by Bret Maverick in May of 1872.[2]
Named for the nearby Gunsight Mountains, which have a notch resembling a gunsight, "straight as a gun barrel with a peak at one end." First settled about 1865 along a wagon road leading from Fort Griffin to Stephenville, Texas, it's real growth began about 1870.[1]
​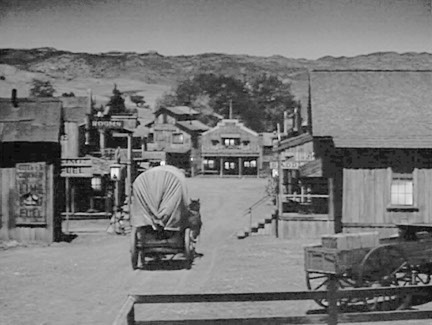 ABOVE: Gunsight, Texas, 1872.[2]
By May of 1872, Bret Maverick's long search for the Tall Man had ended successfully. He and Brother Bart had just met in their home town of Little Bend, Texas, about 100 miles to the south of Gunsight. In Little Bend, thanks to the Tall Man's sworn deposition, Bret and Bart we able to clear their names of the murder charges against them there, which had effectively exiled them from their home state since 1867. Finally free to travel again anywhere in Texas without the threat of a hangman's noose, Bret was catching up for lost time at the poker tables in his homeland.[3]
On May 29, 1872, Bret won $3,000 in a poker game in Gunsight. Immediately afterwards, he was held up by the Kid and robbed of his winnings. Bret left Gunsight the next morning on the Kid's trail.[2]
In 1880, Gunsight gained a post office at J. W. Maxwell's general store. The population grew rapidly due to the Texas oil boom in the early years of the 20th century and it's proximity to Wichita Falls. By 1921, after the oil boom, Gunsight had lost its post office along with dreams of acquiring its own railroad station and the population declined just as rapidly as it it grown. By the end of World War II, it was little more than a ghost town.[1]

Today, nothing remains of Gunsight but its cemetery and two church buildings across the road.[1]
See: Ghost Rider
ABOVE: The remaining church buildings and historical marker today, across the road from the Gunsight cemetery.[4]
SOURCE REFERENCES
01. Shirley Dukes, The Rich History of Gunsight, Texas, Comanche Electronic Cooperative (retrieved August 17, 2014)
02. Maverick, Ghost Rider (1957), Warner Bros. Pictures, Inc.
03. The Conjectural Maverick, Maverick Trails
04. Texas Escapes, Gunsight, Texas (retrieved August 17, 2014)