Kansas City
City straddling the border of the states of Kansas and Missouri at the confluence of the Kansas and Missouri Rivers.
In 1804, Meriwether Lewis and William Clark traveled through the area and noted it would be a good place to build a fort.[1] in 1833, John McCoy built a store to serve travelers on the Santa Fe Trail heading west[2]. In 1834, he established Westport Landing on a bend in the Missouri River[3]. Shortly afterwards, a group of investors began to settle the area, calling themselves the Kansas Town Company after the local Indian word "Canzes," meaning "south winds."[4]
On February 22, 1853, the settlement was incorporated as the City of Kansas.[4]
​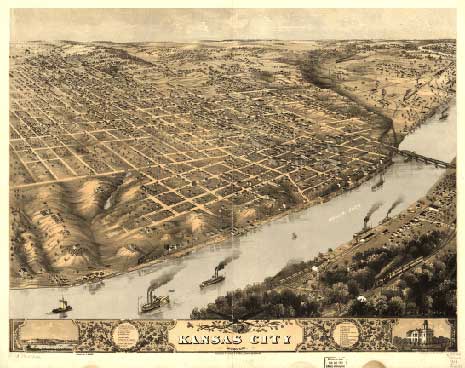 ABOVE: Kansas City, January 1869.[5]
Brasada Spur: In 1867,[6] Roy Stafford received financing from a Kansas City bank to build the Brasada Spur, the bank becoming a capital stockholder.[7]
In 1869, the Hannibal and St. Joseph Railroad completed the Hannibal Bridge across the Missouri River, making the City of Kansas a direct link between Chicago and Texas.[8] The bridge led to a population boom. By 1870, the city's population exceeded 32,000.[9]
Point Blank: In July of 1871,[6] Bret Maverick, judging Molly Gleason to be too sophisticated to be from such a small town as Bent Forks, guesses that she may be from Kansas City before she informs him she was from St. Louis.[10]
SOURCE REFERENCES
01. Lewis, Meriwether and Clark, William, The Journals of the Lewis and Clark Expedition, edited by Gary Moulton, University of Nebraska — Lincoln's Center for Great Plains Studies
02. The Westport Historical Society, McCoy's Trading Post (retrieved June 30, 2014)
03. The Westport Historical Society, Where the West Began (retrieved June 30, 2014)
04. Whitney, Carrie Westlake, Kansas City, Missouri: Its History and Its People 1808 – 1909 (1908) The S. J. Clarke Publsihing Co., Chicago
05. Ruger, A., Bird's Eye View of Kansas City, Missouri, January 1869, Merchants Lith. Co.
06. The Conjectural Maverick, Maverick Trails
07. Maverick, Brasada Spur (1959), Warner Bros. Pictures, Inc.
08. Roe, Jason, Bridge to the Future (retrieved June 30, 2014), The Kansas City Public Library
09. U.S. Bureau of the Census, Population of the 100 Largest Urban Places: 1870 (retrieved June 30, 2014)
10. Maverick, Point Blank (1957), Warner Bros. Pictures, Inc.