La Mesa
Cattle town in northern New Mexico Territory in 1876.[1]
Situated along the Santa Fe Trail just south of the Raton Pass, and named for a distinctive mesa just outside of town.[2]

In the late 1860s, the area provided decent grazing land, and a small cattle industry began to grow, supplying beef to the U. S. Army posts in the territory, as well as to the new mine fields in southern Colorado Territory.[2]
​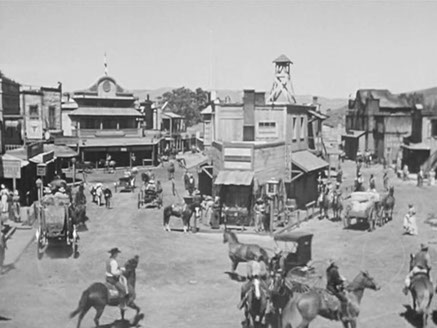 ABOVE: La Mesa, New Mexico Territory, 1876.[1]
In May of 1876, Bart Maverick and Daisy Haskell arrived in La Mesa, having traveled from Santa Fe by stage. Bart had been hired by Daisy to travel posing as her husband, John Haskell, ostensibly to escort her safely to Laramie, Wyoming Territory. But while in town, staying at the La Mesa Hotel, Daisy shot Bart in the chest with her jeweled derringer. Her plan was to kill Bart so people would believe her husband had been killed by a thief in La Mesa, removing suspicion from Henrique Fillipe who had killed her real husband in Santa Fe.[1]
Bart had surmised part of Daisy's plan and had loaded her gun with blanks. He was able to fake his own death and, with the cooperation of La Mesa's sheriff and undertaker, stage a mock funeral for John Haskell. Believing they were safe after the funeral, Daisy and Fillipe discussed their entire plan to cover up Fillipe's killing Haskell as Bart eavesdropped in the shadows. Bart informed the sheriff that Haskell's body could be found under half a ton of rocks in an abandoned mine on the Fillipe Ranch in Santa Fe. The sheriff arrested Daisy and Fillipe and returned them to the authorities in Santa Fe to stand trial for the murder of John Haskell and the attempted murder of Bart Maverick.[1]

Bart decided to continue on from La Mesa to Laramie to get as far away from Santa Fe as possible. Stepping onto the Laramie stage, he found Brother Bret already aboard, northern-bound from Clayton.[1]
In 1877, a U. S. Post Office was established in town and renamed the community Willow Springs so as not to be confused with the town of La Mesa in southern New Mexico Territory just north of the Mexican border. The name changed again in 1879 to Otero, and finally to Raton with the coming of the Santa Fe Railway in 1880.[3]
Today, Raton is the county seat of Colfax County.[4] The original site of the town center of La Mesa is now occupied by La Mesa Park, a former race track.[2]
See: The Jeweled Gun