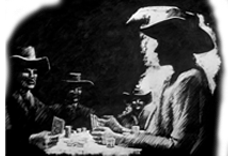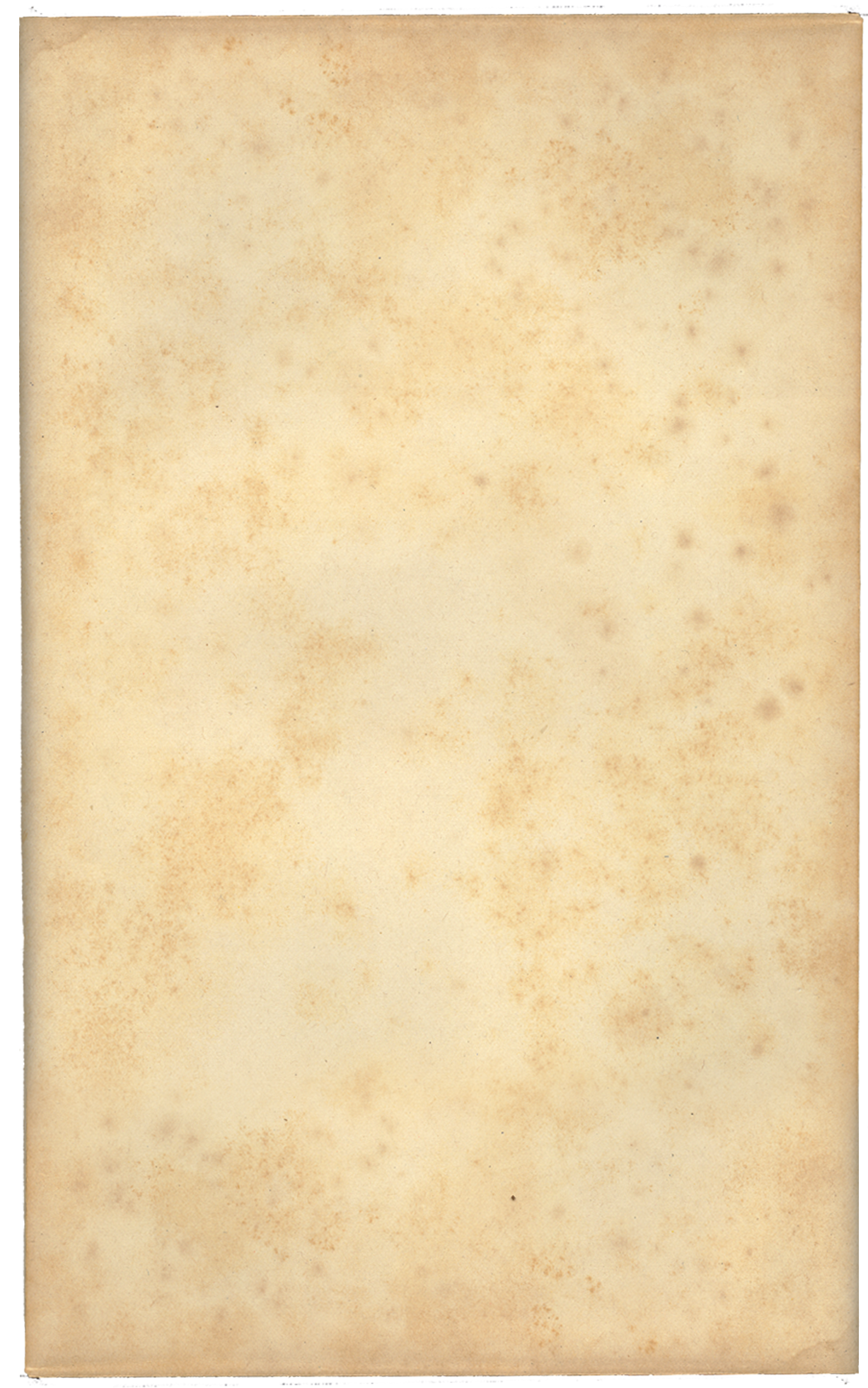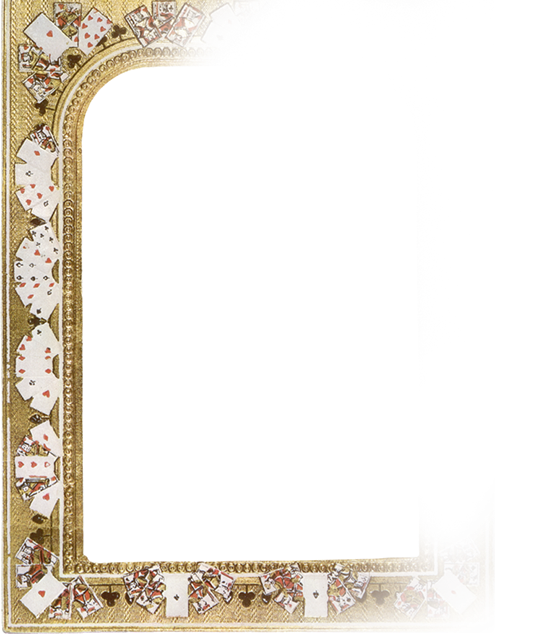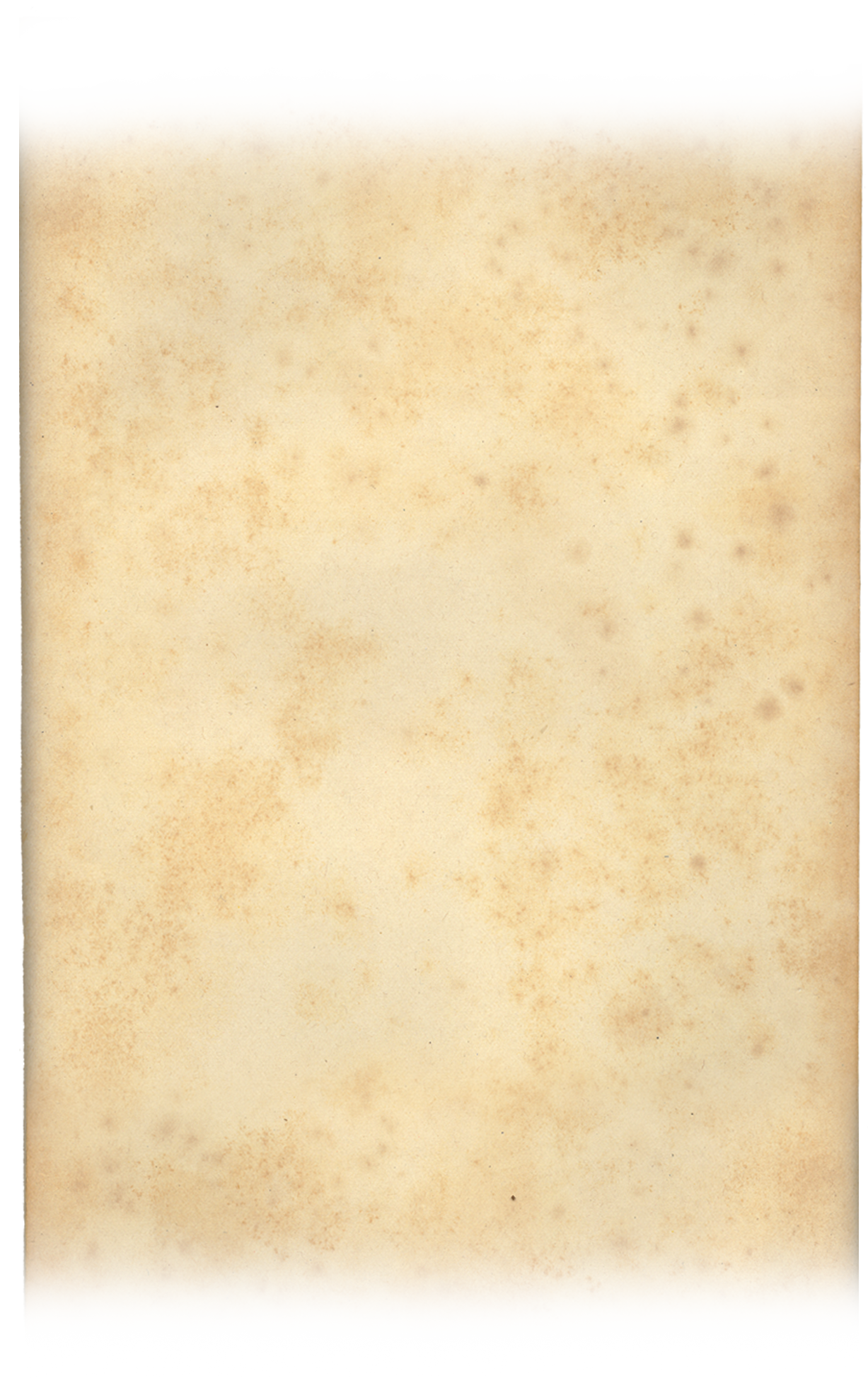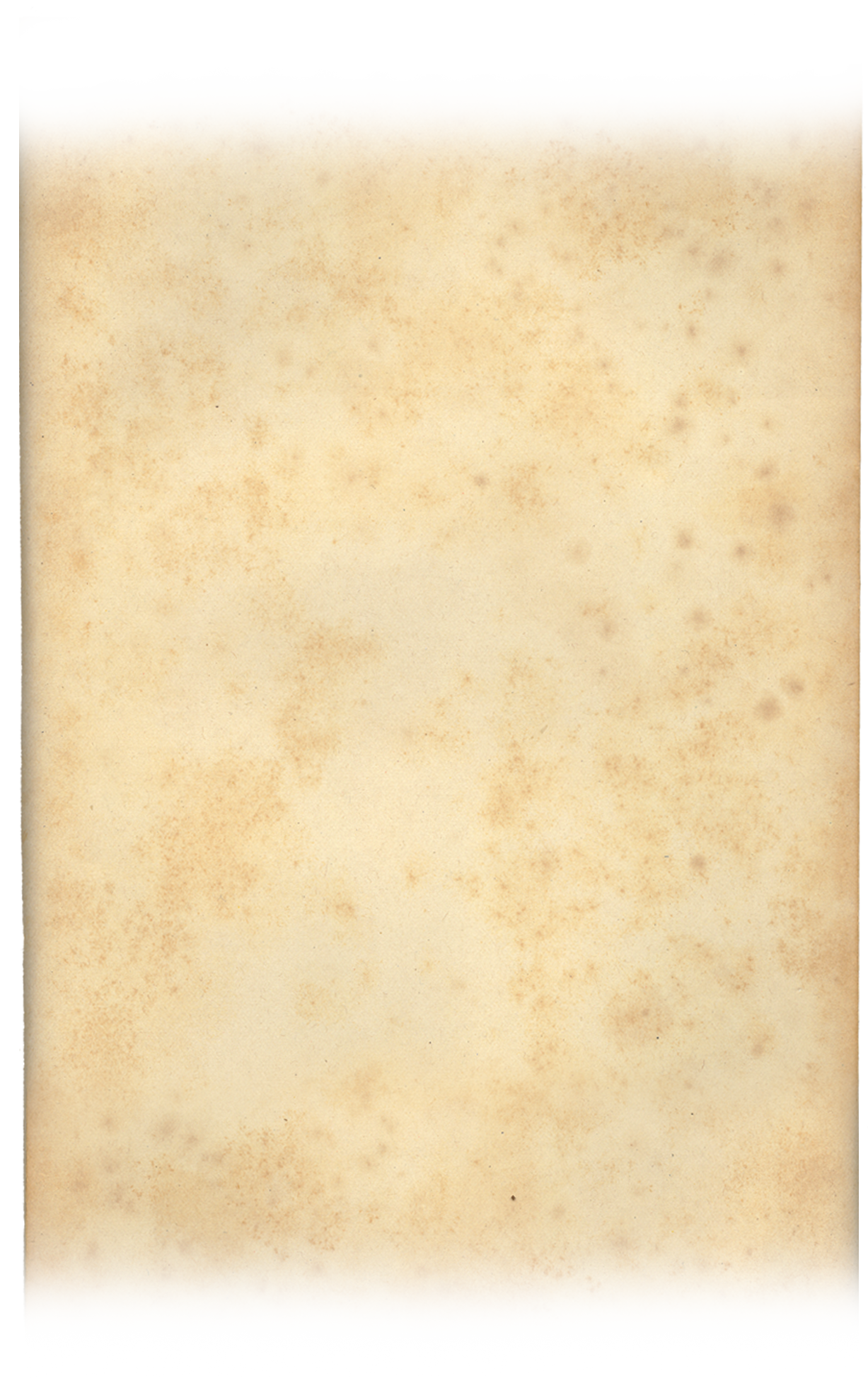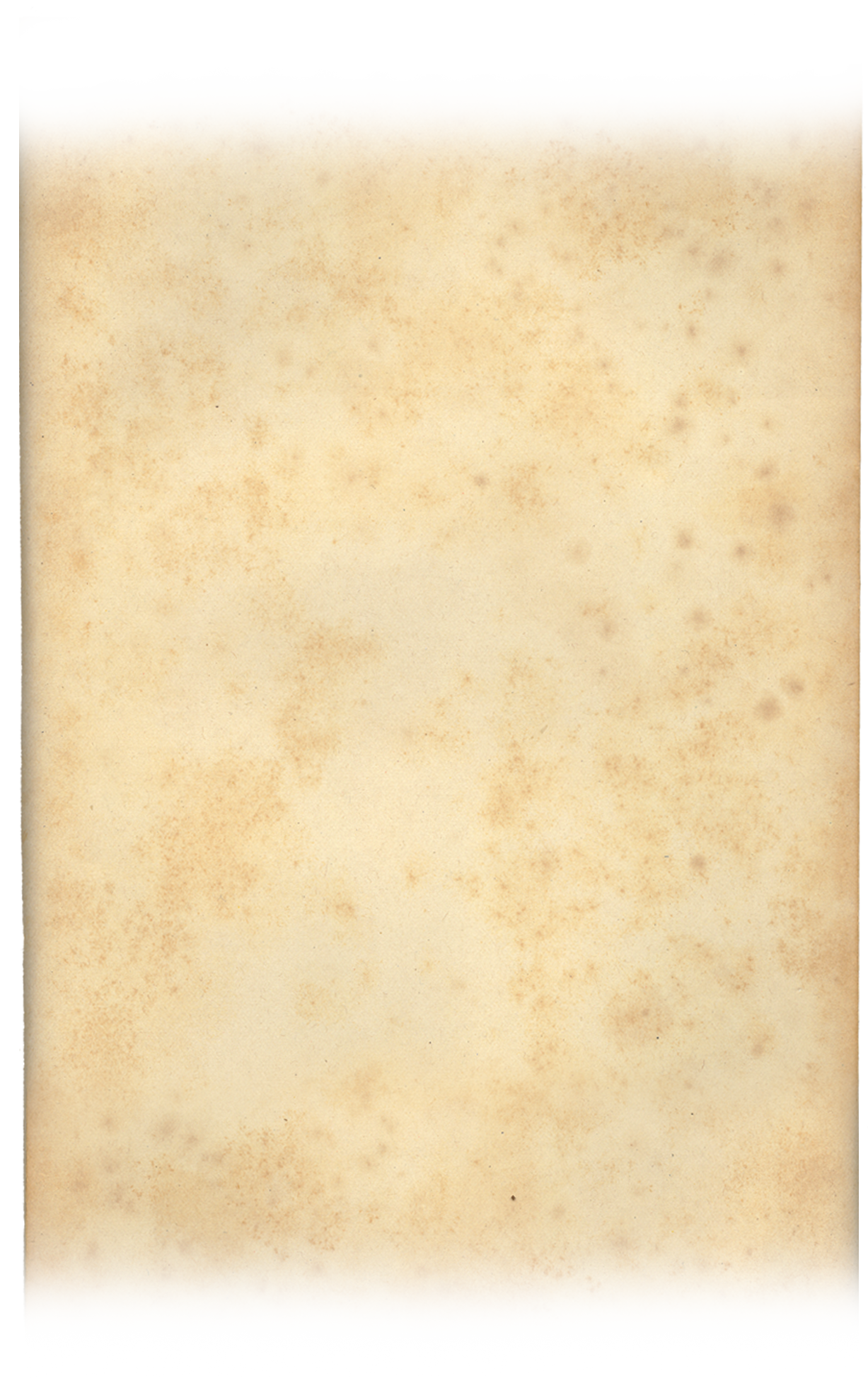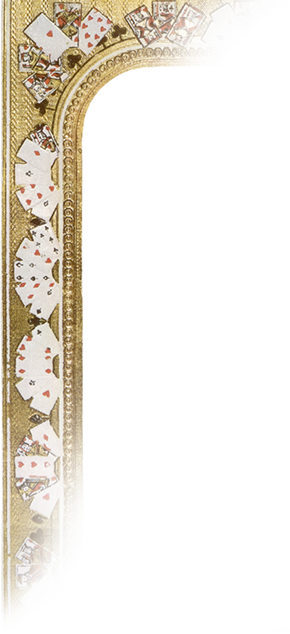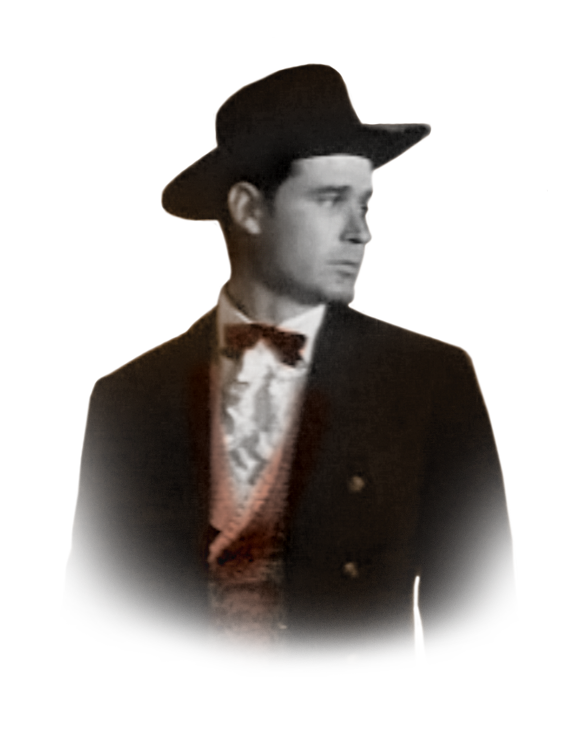 Maverick, Bret
Professional gambler.[1] (May 11,[2] 1840 – July 19, 1926[3])
Born on the Maverick Ranch in Texas[4] to Beauregard[5] and Belle Maverick.[3] Older brother to Bart[6] and first cousin to Beau Maverick.[7]
The Long Hunt: In February,[3] while following rumor of the whereabouts of Poker Alice[16] along the Cheyenne and Black Hills Stage route,[3] Bret was playing poker with six men[17] at Fort Laramie.[3] After a series of winning hands, Bret managed to win even against a four-of-a-kind. Convinced Bret was cheating, the six men took after Bret with the intent to kill him and regain their money. Along the stage route[16] several mile south,[3] one of their gunshots caused Bret to lose his horse. As the six were closing in on Bret, Lefty Dolan shot back at the men and scared them off. Dolan had been waiting to rob the southbound stage and believed Bret's pursuers to be a posse hunting a fellow outlaw. Bret and Dolan became friends and Dolan agreed not to rob the stage, but to ride as a paying customer[17] to Cheyenne[3] with Bret. But further south, the stage was robbed by two other road agents, and Dolan was mortally shot by one of them. Dolan made a dying confession to Bret of an innocent man, Jedd Ferris, was serving life in prison for a crime Dolan had committed in 1872. Dolan and three other men had robbed the bank in Dry Springs, Arizona Territory and a bank teller was killed during their getaway. He made Bret promise to do whatever he could to get him freed, but died without telling Bret the names of his partners. In Cheyenne, Bret tried to forget his promise to Dolan, but was so distracted by the thought of an innocent man serving life in prison, he began losing with winning hands and decided to stop playing and keep his promise before he went broke.[17]
In Tucson[16] that March,[3] Bret visited the governor of the Arizona Territory, Anson P. K. Safford, to tell him what he knew the case against Jedd Ferris. Safford had commuted Ferris' sentence to hanging to one of life imprisonment, and had lost a lot of political friends, so refused Bret's information and nearly threw him out of his office.[17] Still hoping to help, Bret visited the sheriff of Dry Springs and Ferris' former lawyer, but without the governor's backing they were unable to act.[3]
Believing he had done all he could on the behalf of Jedd Ferris,[17] Bret moved on to Silver City, once again on the trail of Poker Alice.[16] There, he met up with Brother Bart[3] some time before Easter[18] and then, bounced back and forth between New Mexico and Arizona Territories following rumors of the whereabouts of Alice.[16] In April, after weeks of fruitless searching,he decided to spend his time more earnestly and traveled to St. Louis, where he could always find a profitable game. There, Bret met Madame Pompey,[3] who was looking to add new girls to her line of female entertainers in Deadwood.[19] She and Bret ran into each other at several saloons over the course of a few days and became friends. Pompey encouraged him to travel to Deadwood with her once she had recruited enough new talent for the return trip. With nothing else to keep him in St. Louis and the promise of the loose pockets of prosperous Deadwood gold miners, Bret agreed.[3]
Stampede: Traveling up the Missouri River aboard the Dakota Queen[19] in mid-April,[3] and with Pompey's help in raising a stake, Bret won more than $4,000 in a poker game from Tony Cadiz. After the game, Cadiz tried to get Bret to buy a quarter interest in his prize fighter, Battling Kreuger, who he was willing to pay any challenger two-to-one odds to stay in the ring with him for ten rounds in Deadwood. Bret refused, but Coral Stacey approached Bret afterwards with the chance to team up with her, a dealer in faro and blackjack, once they reached Deadwood. Before Bret could answer, Cadiz had Kreguer knock him out. Cadiz and Coral robbed Bret of all his money and had Kreuger thrown him overboard into the river. Bret swam to an island in the middle of the river and found Dandy Jim Buckley stranded there, having been put off the Far West by Captain Grant Marsh for cheating at poker on his steamboat. Bret told Buckley how he came to be swimming in the Missouri River and Buckley told a very similar tale, having been robbed by Cadiz and Coral the same way in St. Louis six weeks earlier. Both having scores to settle with Cadiz, Buckley convinced Bret to partner with him in following a treasure map leading to $40,000 of Wells Fargo gold dust buried near Vermillion, and then travel together on to Deadwood to confront Cadiz. After recovering the buried gold dust and returning it to Vermillion for the reward, Bret and Buckley arrived in Deadwood[19] in May[3] to confront Cadiz. Once Bret and Buckley learned Kreuger's boxing weakness, they put their reward money against him at two-to-one odds, along with $25,000 more from Pompey and her girls, and some of the local miners. Relying on Kreuger's weak belly, Bret was able to defeat him, becoming the new Champion of Deadwood Gulch.[19]
Bret lingered in Deadwood for a short time,[3] but decided to move on again, back to the Mississippi River country. By mid-June, he was in Memphis.[20]
Escape to Tampico: By mid-June, Bret was in Memphis, where he bought a riverboat ticket to New Orleans for $47. By the time he landed there, he had lost all but his $1,000 reserve but over the following week, he lost that too. Unable to pay his hotel bill, Bret accepted Roul Gireaux's proposition of $1,000 to accept the charge of pursuading Steve Corbett to return to the United States from Mexico to answer for the crime of stealing silver from the House of Gireaux's workshop and killing his son, Victor, in the getaway. Bret traveled to Tampico to win Corbett's confidence but in working for him at his casino, La Cantina Americana, Bret came to believe Corbett was innocent of the accusations against him in the States. But Victor Gireaux's widow, Amy Lawrence, had been singing at the casino for over a year, allowing Corbett to fall in love with her. In July, she left Tampico, luring Corbett into following her to Corpus Christi, where the Roul Gireaux kept a residence. Being suspicious of Amy's motives, Bret followed Corbett to Corpus Christi in turn and caught up to him at Gireaux's residence just after Corbett had confessed to his crimes. Bret was forced to kill Corbett in self-defense.[20]
The Long Hunt: By September,[3] although he believed he had done all he could for Jedd Ferris, Bret was still haunted by his promise to Lefty Dolan. Seeking closure, Bret went to visit Jedd Ferris in Yuma Territorial Prison and tell Ferris what he knew. Ferris was grateful and asked him to deliver a message to his wife, Martha, still living in Dry Springs. Bret agreed, and met Ben Maxwell at the Ferris Ranch. Maxwell had fallen in love with Martha over the years and told Bret he would like to help in any way to get Ferris out of prison. Bret felt he had now truly done everything he could for Ferris. He was about to leave the Ferris Ranch when Maxwell asked him to help with a small chore that resulted in Bret falling and breaking his arm. He took the accident as a sign from Dolan's ghost that he still hadn't done enough to fulfill his promise.[17]
In Prescott in early December,[3] Bret realized he had been playing poker for the past week with two of Dolan's partners, Rex Clark and Whitey Brandon, in the Dry Springs bank robbery. He was trying to get Clark to sign a confession letter to free Ferris when Whitey intervened and gunplay ensued. One of Brandon's bullets hit and killed Clark by accident, and he fled the scene. Bret tracked him south towards the Mexican border, but realized he was actually running to the fourth member of the hold-up party, Ben Maxwell, in Dry Springs. Bret cornered Brandon in Maxwell's barn and was forcing him to sign the confession letter when Maxwell came in, shooting and killing Brandon. He was about to kill Bret when Martha Ferris appeared with the sheriff of Dry Springs, who shot Maxwell before he could kill Bret. Still in love with Martha, Maxwell asked for the confession letter as he lay dying. He signed it with his last breath, resulting in Ferris' release from prison two months later.[17]
The Long Hunt: Knowing that Jedd Ferris would be released from prison soon, Bret lingered in the Arizona Territory[16] into the early part of the year. In February, he rode to Yuma Territorial Prison to meet Ferris upon his release[3] and rode with him to reunite with his wife, Martha, at their ranch in Dry Springs.[17]
Having spent a year in the West, Bret felt it was time to head east again.[3] With his promise to Lefty Dolan fulfilled and Jedd and Martha Ferris back together again,[17] he headed eastward to his beloved Mississippi River country.[3]
After a few short but eventful months traveling between St. Louis and Omaha,[21] Bret found himself drawn back to the Arizona Territory. Mandy Packer had invited him to a high-stakes poker contest at her Red Ox Saloon in Sweetwater. While there, she told him of Carl Jimson's brace joint, the Square Deal Saloon, in Silver Springs, New Mexico Territory. After a successful run at the Red Ox poker contest,[3] Bret felt compelled to travel to Silver Springs and see about Jimson's operation.[11]
Relic of Fort Tejon: On his way to Silver Springs,[11] New Mexico Territory in July,[3] Bret stopped in Clayville for a rest and to enjoy a little poker. To meet one of Bret's raises, Mr. Brimmer offered to sell him a "full-blooded Arabian mount" for $200. Bret agreed, but was soon surprised to discover that it was, in fact, a camel named Fatima. Back on the trail to Silver Springs and not wanting Fatima, Bret finally had to pay rancher Johnson $100 to take her off his hands. In Silver Springs, Bret met up with Donna Seely, and old flame he had known from Clovis,[11] Arizona Territory[3] years earlier. He was dismayed to learn that her new fiancée was Carl Jimson, the very man he had come to Silver Springs to expose. Later that night, Bret found himself in a poker game with Jimson and caught him using several tricks cheating at cards. During Jimson's deal, Bret called for a cut, to which Jimson took offence. The altercation escalated and Jimson shot Bret in the shoulder, seriously wounding him. After recovering for several days, Bret confronted Jimson again. Donna was with Jimson at the time and was allowed to leave the premises while Bret and Jimson resolved their conflict. But while Donna passed between the two, Jimson took a shot at Bret. Startled, Donna spun around and a second shot from Jimson accidentally hit her in the chest. With Donna unconscious and no other witnesses to corroborate what happened, the sheriff arrested Bret for shooting her. While in jail, Bret learned that Jimson had left town, ostensibly to fetch a doctor for Donna from Crown City. Bret knew he was really fleeing town in case Donna recovered and identified him as the one who really shot her. Bret managed to break out of jail and chase Jimson across the desert. After hours with no water in the desert sun, Bret's horse collapsed while Jimson's rode on. Fortunately, Fatima appeared out of nowhere, having broken out of her pen and tracked Bret into the desert. Together they were able to catch up to and subdue Jimson, and brought him back to Silver Springs. In the meantime, Donna had recovered and reported that Jimson, not Bret, had shot her. The sheriff forgave Bret's jailbreak and Bret suggested the town build a monument to Fatima for making Jimson's capture possible.[11]
Hostage: In New Orleans,[3] Bret heard about the upcoming maiden voyage of Henri Devereaux's luxurious steam packet, the River Princess. Knowing it would be carrying the proudest and wealthiest Creole aristocrats, he invited Brother Bart down[6] from St. Louis[3] to help him get onboard for the opportunity of a lifetime at the riverboat's poker tables. On the eve of the voyage, Devereaux's daughter, Yvette, was kidnapped by Jody Collins and his men. Bret saw rescuing Yvette as a chance to earn Devereaux's gratitude and get his personal invitation on the River Princess. By convincing Collins that he and Bart were professional criminals, they managed to foil Collins' scheme and return Yvette safely to her father. Not only did he and Bart get Devereaux's personal invitation, but his respect as well.[6]
For Bret's early years, see: Maverick Brothers
Trail West to Fury: In August,[3] after more than five years fighting Yankees in the Civil War and Indians[4] along the Santa Fe Trail,[3] Bret Maverick and Brother Bart returned to their home town of Little Bend, Texas to settle down on the cattle ranch[4] their Uncle Micah left them[3] and raise a herd. Having been robbed of all their money, Bret and Bart were forced to accept jobs as trail bosses on the Miller cattle drive to Fort Adobe. In an ambush the night before the drive, Bret killed a gunman from the Jessie Hayden Ranch in self-defense, while Bart killed another. A mysterious Tall Man witnessed the gunfight but left without giving account of the Mavericks' innocence. Bret worked the Miller drive for two months while Bart tracked the Tall Man.[4] In October of 1867,[3] the cattle drive was over and Bret and Bart had earned $20,000, but the Tall Man's whereabouts were still unknown. With murder charges against them in Texas, Bret and Bart could not return without the Tall Man clearing their names. The Mavericks continued searching for the Tall Man for years.[4]
While in Chicago, Illinois, Bret was able to have a black broadcloth coat tailor-made for him, something he had wanted for a long time.[8]
War of the Silver Kings: While traveling through the Colorado Territory,[3] Bret heard of a weekly high-stakes poker game in the mining town of Echo Springs,[8] Utah Territory.[3] With a single $1,000 bill pinned inside his coat, he was able to buy his way in to the exclusive game and bluff his way into thousands of dollars more.[8] Events led him to stay in Echo Springs for nearly ten weeks,[3] during which time he instituted labor reforms for local silver miners and organized them into a combined and profitable company. While there, he made the acquaintance of Big Mike McComb, an Irish saloon keeper, and the the two became fast friends.[8]
Point Blank: Still looking for the Tall Man, Bret's trail took him into Nebraska.[3] in Prairie Springs, he fell into some trouble and was run out of town by an angry group of men on horseback. He evaded them, and found himself broke and hungry in the small cattle town of Bent Forks. There, he nearly fell victim to murder as part of a plan to rob the bank in Bent Forks of $100,000. When confronting Ralph Jordan, his wound-be murderer, Bret was forced to kill him in self defense. Bret was then able to recover the stolen money and returned it for a reward of $3,000. After donating the majority of the money to the legal defense of Molly Gleason, a participant in the robbery and his attempted murder, Bret left Bent Forks with his $1,000 getaway money replenished.[9]
Trail West to Fury: After meeting up with Brother Bart and Dandy Jim Buckley in August, the three of them were trapped in a torrential flood[4] near Pueblo,[3] Colorado Territory. Taking shelter in an abandoned house to wait out the rising flood waters, Bret and Bart passed the time telling Dandy Jim their story of the Tall Man, and why they can never return to Texas without him.[4]
The Wrecker: In November,[3] Bret telegrammed Brother Bart to join him in San Francisco where he could help close a deal to gain partnership into the Ring, a group of businessmen that bought wrecked ships at auction for salvage. Bart arrived[23] in December,[3] only in time to witness Bret win his way into the Ring in a poker game without his help. The next morning, Bret entered his new partnership in the Ring by bidding on the wreck of the Flying Scud, beached at Midway Island, at auction. When the price hit $5,000 in a bidding war with Thomas Bellairs, the Ring refused to back Bret's investment any further, leaving him to pay for any further bids out of his own pocket. Due to Bellairs' desperate bidding, Bret believed their must be something far more valuable aboard the shipwreck beyond its reported shipment of Chinese rice and silk and stayed in the bidding until he won the shipwreck for $21,000. Bret signed sixty-day notes with creditors to pay the auction house, and had only the hope of the possible salvaging of the Flying Scud to pay his debts. Brother Bart chartered the Norah Creina to take him to Midway to claim any valuables.[23] Shortly after Bart's departure, Bret was able[23] to win enough money in poker and, with the sale of his partnership in the Ring, was able to charter a British man-of-war through the Commission[3] to sail after Bart and bring him safely home, regardless of the value of the salvaging operation.[23]
In the spring, Bret and Bart's search for the Tall Man finally ended. The Tall Man agreed to return to Little Bend, Texas with Bret in May and clear their names of the murder charges against them.[3]
Ghost Rider: A hundred miles north of Little Bend, Texas,[3] Bret found a friendly poker game at Pearlo's Palace in the little town of Gunsight. After winning $3,000, he was held up in the street by the Kid, robbed and knocked unconscious. After a week of false starts, Bret picked up the Kid's trail and found him in White Rock, Texas, playing poker in Fred's Paradise Saloon with Bret's money, and losing. Before Bret could confront him, the Kid lost the last of the money to Sideburns. Angry, the Kid called Sideburns a cheat and Sideburns shot and killed him. With only his $1,000 getaway money, Bret left the saloon and came across Mary Shane crying in a dark alley. Offering to drive her home in a buggy, he lent her his coat for warmth. Along the way, Mary got out to check the path ahead and disappeared into the shadows, still wearing Bret's coat with his $1,000 bill pinned inside. While trying to track her down, he learned that she had been dead for more than a week. Not believing in ghosts, Bret finally discovered her plan, and with it, $60,000 in stolen Wells Fargo money. Bret recovered the money, the reward of which was exactly $3,000, the amount the Kid had stolen from him.[10]
Brasada Spur: In late August,[3] Brother Bart wrote a letter to Bret about having to go through Belle Morgan to get into a high-stakes poker game in King City,[24] Kansas. Bret would have received the letter in early September.[24]
In November of 1874,[3] Bret traveled to Clovis,[11] Arizona Territory to collect an old gambling debt.[3] While there, he met Donna Seely and the two developed a romantic relationship.[11] Weeks later, Bret managed to recover the money owed him and decided to move on.[3] Though his relationship with Donna came to an end, they remained good friends.[11]
Stage West: Traveling deep inside Sioux country through the Black Hills[12] in July of 1875,[3] Bret found Sam Harris dying of a bullet wound from Wes Fallon's gun. Harris had been trying to defend the gold mine he had struck on Sioux land. Before Harris died, he showed Bret the location of the mine and asked Bret to take the unearthed gold nuggets to his wife, who was to meet him at the Packsaddle Station a few days hence. Bret agreed, and had to kill two of an angry band of Sioux that chased him out of the Dakota Territory[12] into Nebraska.[3] On reaching Packsaddle, Bret discovered the Fallons had killed Harris partner, Matson. Mart Fallon tried to convince Mrs. Harris that he was Matson and lead him to the Harris Mine. But she hadn't trusted him and left her bags on the stagecoach, which was attacked and burned by the Sioux that had been chasing Bret. Understanding the Fallons' plan, Bret told Mrs. Harris he had buried her husband two days earlier, and knew where the mine was. He sold a map to the mine to Mart Fallon for $15,000. Wes Fallon tried to draw on Bret, but his brother Rip called out a warning in time for Bret to defend himself. Bret shot and killed Wes just before Sheriff Tibbs arrived at the station with a posse from Twin Bluffs. The surviving Fallons were arrested and taken to Twin Bluffs for trial, and Bret gave the $15,000 Fallon paid for the map to Mrs. Harris for her son Timmy, just as he had promised Harris.[12]
The Jeweled Gun: In April, Bret and Brother Bart visited Silverton, Colorado Territory, where they met Adelaide. Bret found himself attracted to her, but within a few days, her parents sent her to live with an uncle in Clayton, New Mexico Territory, where she could be away from the bawdy surroundings of Silverton. After Bret and Bart had their fill of Silverton, the rode into New Mexico Territory. Upon reaching the Rio Grande,[3] the brothers parted ways... Bart took the southern trail to Santa Fe while Bret headed north towards Clayton. Bret visited Adelaide but a week later, he left Clayton on the northbound stage for Laramie, Wyoming Territory. Brother Bart, boarding the same stage in La Mesa, asked Bret how Adelaide was doing, to which Bret replied that it was "a long story."[13]
The Day They Hanged Bret Maverick: In September, Bret and Brother Bart were back in New Mexico Territory.[14] Probably spending Bart's birthday together in Cimarron,[3] they let a coin toss decide each of their trails when they decided to move on.[14] Bart traveled west into Arizona Territory while Bret headed east, towards his beloved river country.[3] His first night out, Bret stopped in Elbow Bend, New Mexico Territory, where he was framed and arrested for Cliff Sharp's robbery of the Hallelujah Wells Fargo office and killing its clerk. He was taken to Hallelujah to stand trial, was found guilty and sentenced to hang. But Bret managed to escape and caught up with Sharp's wife, Molly, on her way to Santa Fe to meet up with her husband. Bret traveled with her by stage to Santa Fe under the name of Brad Richards. Once in Santa Fe, Bret rented a carriage to drive Molly and himself out to the Sharp's home a few miles outside of town. There, Bret killed Sharp in self-defense and recovered the stolen Wells Fargo money. Molly returned with Bret to Hallelujah to return the money. He collected the $5,000 reward and continued on his journey east[14] to St. Louis.[3]
According to Hoyle: After a rough year in the West and barely avoiding the hangman's noose in New Mexico Territory,[14] Bret decided to spend the coming cooler months relaxing in the more civilized environment of the riverboats plying the Mississippi.[3] It was on an otherwise profitable cruise to New Orleans[14] in October[3] that he met Samantha Crawford. Within a few days, he had lost thousands of dollars to her and was forced to consider a scheme to regain his money that would take him back out West. Partnering with Samantha, he decided to return to Wagon Wheel, Wyoming Territory, where his old friend Big Mike McComb was then residing. It was there, several years earlier, he discovered Joe Riggs' Golden Bucket Saloon, the town's only casino was a brace joint. With Big Mike and Samantha's help, he could regain his lost money and put Riggs out of business. Even though Samantha double-crossed him, he and Big Mike, with the help of Ma Braus, were able to prove the Golden Bucket was crooked and the customers smashed the saloon to bits. Bret got his money back and was able to move on, this time hopefully to quieter parts.[15]
SOURCE REFERENCES
01. The Maverick Saga
02. Maverick, The Misfortune Teller (1960), Warner Bros. Pictures, Inc.
03. The Conjectural Maverick, Maverick Trails
04. Maverick, Trail West to Fury (1958), Warner Bros. Pictures, Inc.
05. Maverick, Pappy (1960), Warner Bros. Pictures, Inc.
06. Maverick, Hostage (1957), Warner Bros. Pictures, Inc.
07. Maverick, The Bundle from Britain (1960), Warner Bros. Pictures, Inc.
08. Maverick, War of the Silver Kings (1957), Warner Bros. Pictures, Inc.
09. Maverick, Point Blank (1957), Warner Bros. Pictures, Inc.
10. Maverick, Ghost Rider (1957), Warner Bros. Pictures, Inc.
11. Maverick, Relic of Fort Tejon (1957), Warner Bros. Pictures, Inc.
12. Maverick, Stage West (1957), Warner Bros. Pictures, Inc.
13. Maverick, The Jeweled Gun (1957), Warner Bros. Pictures, Inc.
14. Maverick, The Day They Hanged Bret Maverick (1958), Warner Bros. Pictures, Inc.
15. Maverick, According to Hoyle (1957), Warner Bros. Pictures, Inc.
16. "The New Maverick" (1978), Warner Bros. Pictures, Inc.
17. Maverick, The Long Hunt (1957), Warner Bros. Pictures, Inc.
18. Maverick, The Judas Mask (1957), Warner Bros. Pictures, Inc.
19. Maverick, Stampede (1957), Warner Bros. Pictures, Inc.
20. Maverick, Escape to Tampico (1958), Warner Bros. Pictures, Inc.
21. Maverick, The Naked Gallows (1957), Warner Bros. Pictures, Inc.
22. Bret Maverick, The Lazy Ace (1981), Warner Bros. Pictures, Inc.
23. Maverick, The Wrecker (1957), Warner Bros. Pictures, Inc.
24. Maverick, Brasada Spur (1957), Warner Bros. Pictures, Inc.
Bret Maverick rides into Echo Springs,[8] Utah Territory,[3] 1870. From Maverick's pilot episode, our first look at Bret is that of an unshaven, trail-worn vagabond, very unlike his preferred formal appearance of the sophisticated professional gambler.[8]