Natchez
Port city in Mississippi on the Mississippi River.
Named for the indigenous Natchez (pronounced "Nochi") Indian tribe. Before the coming of Europeans in 1716, the site was already a major Native American village and ceremonial center. Early European explorers to the area called it the Grand Village of the Natchez.[1]
After 1716, most of the next 80 years were spent in conflict between the French, British, Spanish and Americans for control over the territory. The Treaty of San Lorenzo (1795) ultimately gave control of the region to the united States. In 1798, Natchez became the first capital of the Mississippi Territory.[1]
In the decades leading up to the Civil War, Natchez pioneered the hybridization of cotton in the United States. Due to its situation on high bluffs above the Mississippi River, it became a major port. It's landing became known as Natchez Under-the-Hill.
The Civil War left Natchez largely untouched and its post-war economy recovered rapidly. Commercial shipping of cotton resumed almost immediately, sharecroppers having replaced the slave labor of the Antebellum years. As the city grew in importance as a commercial port, no less than nine steamboats bore the name Natchez.
​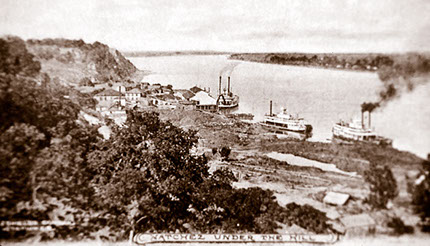 ABOVE: Natchez Under-the-Hill, c1860.
By the time the Mavericks were traveling the United States and its territories, Natchez had become a significant Southern city and indirectly through the Maverick theme, an iconic (thought seldom visited) locale of the Saga:
"Natchez to New Orleans, living on jacks and queens..."
War of the Silver Kings: In July of 1870[2] in Echo Springs[3], Utah Territory[2], Bret Maverick cut up several pages of the Natchez Herald from a table in a hotel lobby to secretly pad an envelope of money.[3]
Stampede: In March of 1877,[2] Dandy Jim Buckley met a dying man in a dive on Silver Street in Natchez. Before he died, the man sold Buckley a map to the location he had buried $40,000 of stolen Wells Fargo gold dust near Vermillion, Dakota Territory, for $200.[4]
Hostage: In April of 1879,[2] Bart Maverick worked his way down the Mississippi River on a cattle boat[4] from St. Louis[3] to New Orleans to meet Brother Bret. The cattle boat got caught on a sand bar for four days north of Natchez. That same month, Natchez was the destination of Henri Devereaux's packet Prairie Belle out of New Orleans.[5]
SOURCE REFERENCES
01. Francine Weiss and Mark R. Barnes (May 3, 1989). National Register of Historic Places Registration: Grand Village of the Natchez Site / Fatherland Plantation Site, National Park Service
02. The Conjectural Maverick, Maverick Trails
03. Maverick, War of the Silver Kings (1957), Warner Bros. Pictures, Inc.
04. Maverick, Stampede (1957), Warner Bros. Pictures, Inc.
05. Maverick, Hostage (1957), Warner Bros. Pictures, Inc.