New Orleans
Major port city on the Mississippi River in Louisiana.
Founded on May 7, 1718 by the French Mississippi Company and named for Philippe d'Orléans, Duke of Orléans, the contemporary Regent of France.
The French colony was ceded to Spain in the Treaty of Paris (1863). It reverted to the French in 1801. Most of the surviving architecture of the French Quarter dates from the Spanish period. In 1803, Napoleon sold the territory to the United States as the Louisiana Purchase, which covered nearly a third of what was eventually to become the continental United States.
Towards the end of the War of 1812, the British attempted to recapture New Orleans. But on January 8, 1815, Andrew "Stonewall" Jackson and his crew of local militia and privateers decisively defeated the British in the Battle of New Orleans.
During the Antebellum era, and aside from the handling of commodities between the Untied States interior and other countries, New Orleans was instrumental in the Atlantic slave trade. Its riverfront became a bustling port to Mississippi rivercraft and seafaring sailing ships alike. New Orleans became the largest and most prosperous city in the South.
During the Civil War, the French-dominated culture began to change. Long-held Creole customs were discouraged and after the war, the speaking of French was abolished. French faded significantly also due to pressures of a major insurgence of Irish, German and Italian immigrants flooding into the post-war American South.[1]
​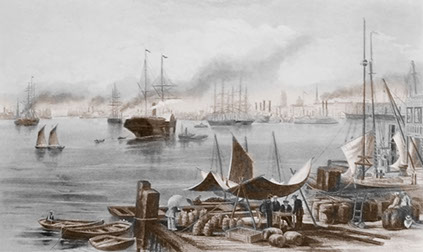 ABOVE: The city of New Orleans, 1870.
By the time the Mavericks were traveling the United States and its territories, New Orleans had become a significant Southern city and, indirectly through the Maverick theme, an iconic locale of the Saga:
"Natchez to New Orleans, living on jacks and queens..."[2]
Brasada Spur: In September of 1872,[3] Bart Maverick and Belle Morgan traveled together to New Orleans from King City, Kansas.[4]
According to Hoyle: In October of 1876,[3] Bret Maverick arrived penniless in New Orleans aboard the Delta Star, where he met Samantha Crawford. On the riverboat, Samantha had won $12,000 from Bret in a high-stakes poker game. With no money to his name, Bret negotiated with Bledsoe and Hayes, owners of the Louisiana and Missouri Packet Company for a $5,000 stake and passage to St. Louis aboard their steamboat, the Stonewall Jackson. With a much-anticipated rematch between Bret and Samantha onboard, Bledsoe and Hayes were able to fill the Stonewall Jackson, equally more in fares than they had staked Bret to begin with.[5]
Stampede: In April of 1877,[3] Tony Cadiz introduced Bret Maverick to Battling Kreuger, an undefeated boxer that had taken on all challengers from New Orleans to St. Louis.[6]
Escape to Tampico: In June of 1877, Bret Maverick traveled to New Orleans from Memphis by steamboat. Within a week, he lost all of his remaining $1,000 playing poker in the city's casinos. An acquaintance of Bret's, Carpentier, recommended him to Roul Gireaux as an ideal candidate to travel to Tampico, Mexico, to persuade Steve Corbett to return to the United States to face charges against him for crimes against the House of Gireaux. Needing money, Bret accepted $1,000 from Gireaux to entice Corbett to return, with the promise of an additional $5,000 more once the job was successfully completed. From New Orleans, Bret sailed of to Tampico on Gireaux's commission.[7]
Hostage: In April of 1879,[3] Bret Maverick visited New Orleans and learned of the upcoming maiden voyage of Henri Devereaux's luxurious steam packet, the River Princess. Knowing of the proud and wealthy Creole aristocrats that would be traveling aboard her, Bret telegraphed Brother Bart[8] in St. Louis[3] to come downriver and join him for the chance of a lifetime. Once together in New Orleans, the Maverick Brothers became involved in rescuing Devereaux's daughter Yvette from being kidnapped by Jody Collins and his men. The incident took them throughout the French Quarter, and finally resulted in their receiving a personal invitation on the River Princess' maiden run from the grateful Devereaux.[8]
SOURCE REFERENCES
01. Joan B. Garvey and Mary Lou Widmer (February 1983). Beautiful Crescent: A History of New Orleans, Garmer Press
02. The Maverick Saga
03. The Conjectural Maverick, Maverick Trails
04. Maverick, Brasada Spur (1959), Warner Bros. Pictures, Inc.
05. Maverick, According to Hoyle (1957), Warner Bros. Pictures, Inc.
06. Maverick, Stampede (1957), Warner Bros. Pictures, Inc.
07. Maverick, Escape to Tampico (1958), Warner Bros. Pictures, Inc.
08. Maverick, Hostage (1957), Warner Bros. Pictures, Inc.