Prescott
First capital city of the Arizona Territory.
Selected as the site for Arizona Territory's capital by it's first governor, John Noble Goodwin. Named for historian William H. Prescott on May 30, 1864. It served as the territory's capital until November 1, 1867, when it moved to Tucson. It became the capital again from May 7, 1877.[1]
​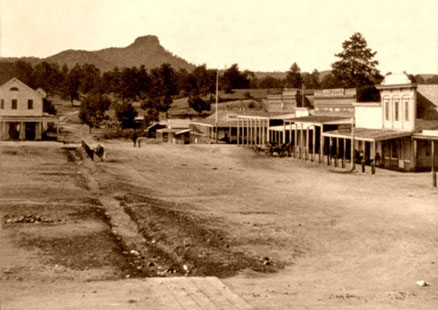 ABOVE: Prescott, Arizona Territory, looking west from Gurley Street to Thumb Butte in the distance, 1877.
The Long Hunt: Recovering from a broken arm[2] in November of 1877,[3] Bret Maverick traveled[2] to Prescott[3] from Dry Springs. There, he met Rex Clark and Whitey Brandon[2] at the Palace Saloon in Whiskey Row,[3] and played poker with the for a week.[2] On December 5, 1877,[3] Bret realized he was playing poker with tow of Lefty Dolan's partners in the bank robbery in Dry Springs five years earlier. He confronted Clark in his hotel room, trying to get him to sign a confession, which would free the innocent Jedd Ferris, mistakenly serving a life sentence for the crime. Brandon intervened, accidentally shooting and killing Clark in the ensuing gunplay. Brandon fled, but the commotion of the gunfight brought others in the hotel to the scene. Bret was taken into custody, but the sheriff determined he could not hold Bret, since there was no way a jury would be able to determine whether it was Bret's or Brandon's gun that killed Clark. Bret began tracking Brandon's trail south towards the Mexican border the next day.[2]
Today, Prescott is the center of the third-largest metropolitan area in Arizona.[1]