Pueblo
Town in the Colorado Territory at the confluence of the Arkansas River and Fountain Creek.
Originally settled in the late 1830s by trappers as a trading post, the site was chosen for its convenient location on the Arkansas River which then formed the U.S.-Mexico border, and for its warm winter climate and its accessibility to the plains. By 1842, it was known as El Pueblo or Fort Pueblo.[1]
In 1870, it became Pueblo, officially a town in the Colorado Territory. Streets were platted out in anticipation of a future railroad connecting the territory with Mexico.[1]
​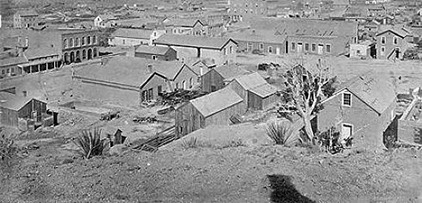 ABOVE: Pueblo, Colorado Territory, looking northwest from a hill just east of Santa Fe Street, 1870.[2]
Trail West to Fury: In August of 1871,[3] Bret and Bart Maverick and Dandy Jim Buckley were caught in a torrential flooding[4] of the Arkansas River near Pueblo,[3] Colorado Territory. They sought refuge in an abandoned house, but quickly became trapped as the waters rose within the house. While waiting out the deluge, Bret and Bart told Dandy Jim the story of their homecoming after the Civil War, the Tall Man, and why they could never again return to Texas.[4]