SOURCE REFERENCES
01. Lewis, Meriwether and Clark, William, The Journals of the Lewis and Clark Expedition, edited by Gary Moulton, University of Nebraska — Lincoln's Center for Great Plains Studies
02. History Engine, The Zebulon M. Pike arrives in St. Louis, (retrieved July 3, 2014)
03. The Conjectural Maverick, Maverick Trails
04. Maverick, Point Blank (1957), Warner Bros. Pictures, Inc.
05. Maverick, According to Hoyle (1957), Warner Bros. Pictures, Inc.
06. Maverick, Stampede (1957), Warner Bros. Pictures, Inc.
07. Maverick, Escape to Tampico (1958), Warner Bros. Pictures, Inc.
08. Maverick, Hostage (1957), Warner Bros. Pictures, Inc.
Saint Louis
Major port city in Missouri on the Mississippi River, near the confluence of the Missouri River. Founded in 1764 by Pierre Laclède and Auguste Chouteau, and named for Louis IX of France.
Acquired by the United States as part of the Louisiana Purchase, St. Louis was made the territorial capital. Carrying mail from Cincinnati on August 2, 1818, the Zebulon M. Pike became the first steamboat to arrive in St. Louis, ushering in a lavish era of river trade.[2]
The city's economy was damaged during the Civil War when the Union blockage stopped river traffic to the South. Recovery was quick after the war as thousands of pioneers crossed the Mississippi at St. Louis or headed up the Missouri by steamboat, on their way into the opening American West.
​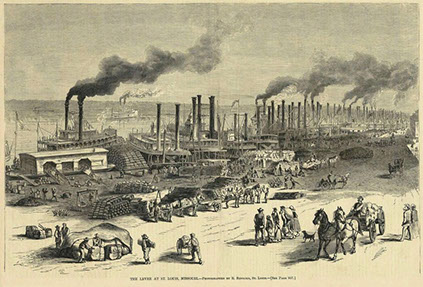 ABOVE: St. Louis levee in 1871.
Point Blank: In early 1871,[3] Molly Gleason left her home in St. Louis to travel to Bent Forks,[4] Nebraska[3] with Ralph Jordan, planning an elaborate scheme to steal $100,000 from Jordan's uncle's bank.[4]
According to Hoyle: In October of 1876,[3] Bret Maverick and Samantha Crawford arrived in St. Louis from New Orleans aboard the Stonewall Jackson. Upon their arrival, Bret went into town to order gambling equipment to be shipped to Wagon Wheel, Wyoming Territory, where he intended to put Joe Riggs' brace joint, the Golden Bucket, out of business. The next morning, they took the train out of St. Louis, bound for Wagon Wheel.[5]
Stampede: In March of 1877,[3] Tony Cadiz and Coral Stacey visited St. Louis on a recruiting expedition for a new attraction at Cadiz's Golden Nugget Saloon in Deadwood. On his way upriver from Natchez to Vermillion, Dakota Territory, Dandy Jim Buckley stopped in St. Louis and was robbed of $7,000 by Cadiz and Coral.[6] In April,[3] Bret Maverick arrived in St. Louis and met Madame Pompey, who was searching for new talent for her crew of female entertainers at Cadiz's Golden Nugget.[6]
Escape to Tampico: in June of 1877 at La Cantina Americana in Tampico, Mexico, Steve Corbett introduced Bret Maverick to Amy Lawrence. Bret tried to find out a little of Amy's background by telling her he had a feeling he had heard her sing before, perhaps in St. Louis. Corbett and Amy admonished Bret that in Tampico, a person's history should be considered confidential.[7]
Hostage: In St. Louis in April of 1879,[3] Bart Maverick received a telegram from Brother Bret to join him in New Orleans for a chance of a lifetime. Unable at the moment to afford river passage, he was forced to take a job working a cattle boat down the Mississippi. After joining Bret in New Orleans and rescuing Henri Devereaux's daughter, Yvette, from kidnappers, the Maverick Brothers were invited by Devereaux aboard the maiden run of his luxurious river packet, the River Princess, back to St. Louis.[8]