San Antonio
Large city in Texas. Named for Saint Anthony of Pedua on June 13, 1691, on whose feast day a group of Spanish explorers and missionaries first stopped in the area of the San Antonio River.
In 1717, Spanish Governor of Texas, Martin de Alarcón, was directed to create a presidio, mission and civilian settlement along the San Antonio River as a halfway post to East Texas. On May 1, 1718, the mission of San Antonio de Valero was founded. Alarcón named the presidio San Antonio de Béjar in honor of the Spanish Duke of Béjar.
In 1793, San Antonio de Velero was secularized, and abandoned shortly thereafter. It was occupied in 1803 by the Mexican Army, who came to refer to it as the Alamo, after a nearby grove of alamo (Spanish for cottonwood). During the Texas Revolution, while occupied by the Texian Army, the Alamo was besieged from February 23 to March 6, 1836. On April 21, 1836, Texas won its independence at the Battle of San Jacinto.[1]
In August of 1848, Colonel John Coffee Hays organized an expedition from San Antonio to discover and establish a year-round route to El Paso, which would link greater Texas to the trade routes from Mexico to the Santa Fe Trail and westward to San Diego and San Francisco. Hays recruited Samuel Augustus Maverick for the journey[2] and Sam, in turn, invited his Cousin Beauregard to accompany. Still mourning the loss of his beloved Belle, Beauregard gladly accepted the invitation as a way of exorcising the cabin fever he felt smothering him on the Maverick Ranch. Seeing the adventure as a means of bringing his young sons along in his footsteps, Beauregard packed saddlebags for Bret and Bart and joined the expedition.[3]
After the Battle of the Alamo, San Antonio continued to grow, reaching a population of 12,256 in 1870.
​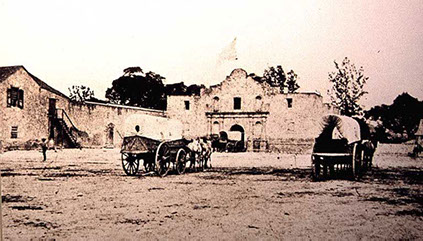 ABOVE: The Alamo Mission c1870, San Antonio, Texas.[3]
War of the Silver Kings: In 1870, a San Antonio resident by the name of Chance registered at the hotel at McComb's in Echo Springs, Utah Territory.[4]