SOURCE REFERENCES
01. Santa Fe, History of an Ancient City (July 1, 2008); David Grant Noble; School for Advanced Research Press
02. Trailing Billy;Bob Boze Bell (retrieved September 9, 2015)
03. The Conjectural Maverick, Maverick Trails
04. Maverick, The Jeweled Gun (1957), Warner Bros. Pictures, Inc.
05. Maverick, The Day They Hanged Bret Maverick (1958), Warner Bros. Pictures, Inc.
Santa Fe
Capital city of New Mexico Territory.[1]
Founded in 1607 by the second Spanish governor of New Mexico and named La Villa Real de la Santa Fe de la San Francisco de Asis (the Royal Town of the Holy Faith of Saint Francis of Assisi). The governor made it the capital of the province in 1610, thereby making it the oldest capital in the United States. Established as the western terminus of the Santa Fe Trail in 1821, claimed by the Republic of Texas in 1841 and ceded to the United States in 1848 through the Treaty of Guadalupe Hidalgo.[1]
​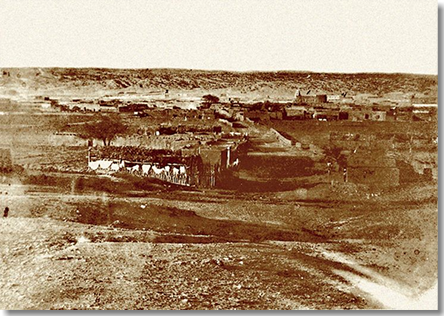 ABOVE: Santa Fe, New Mexico Territory, 1876.[2]
The Jeweled Gun: In April of 1876,[3] Bart Maverick visited Santa Fe for the first time. There, he met Daisy Haskell, who spent Bart's first day in town exploring the local culture with him. That night, Daisy hired him to pose as her husband, John Haskell, and ostensibly escort her by stage to Laramie, Wyoming Territory. They left the next morning on a stagecoach from the Fillipe Ranch just north of town.[4]
The Day They Hanged Bret Maverick: In September of 1876, Bret Maverick traveled to Santa Fe by stage from Dry Springs Way Station with Molly Sharp. Once they arrived in Santa Fe, Bret rented a carriage to take them to the Sharp's home a few miles outside of town. There, trying to clear his name and recover the Wells Fargo money, Bret confronted Cliff Sharp and killed him in self-defense. Molly showed Bret where the money was kept and they returned together to Hallelujah for the reward.[5]