Silver Springs
Mining and ranching town in south-central New Mexico Territory in 1878.[1]
Named for Silver Springs Creek, along which it is situated, in the Sacramento Mountains. Settled in April of 1873 as a small silver mining operation. Although the quantities of silver were never profitable, the mild summer mountain climate so near the desert made it a favorable location for small ranches. A kind of resort community grew into a respectably sized town.[1]
​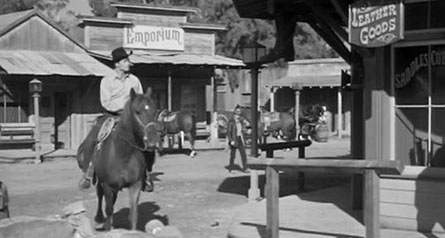 ABOVE: Bret Maverick rides into Silver Springs,[2] New Mexico Territory, July 1878.[1]
Relic of Fort Tejon: In July of 1878,[1] Bret Maverick traveled to Silver Springs to expose its mayor, Carl Jimson, of running his Square Deal Saloon as a brace joint.[2]
In the 1890s, the El Paso and Northwestern railroad reached nearby Alamogordo, intending to continue north through the mining town of White Oaks and northward. The area surrounding Silver Springs was determined to be an excellent source for timber and a spur was extended into the mountains to harvest the rich pine forests for cheap railroad ties and other construction. The name of the town was changed to Cloudcroft, meaning "a pasture for the clouds." In the 1930s, it became a retreat for many celebrities. Today, tourism continues to thrive and the town hosts many popular annual events.[3]
​

ABOVE: Cloudcroft, New Mexico — the site of Silver Springs today.[4]