Tampico
Port city on the Gulf Coast of Mexico.[1]
Situated in the delta region of the Pánuco River, the area is the natural habitat of a thriving population of otters. The name Tampico is of Mayan origin, meaning "place of otters."[1]
During Spanish colonization in 1532, Franciscan priest Andrees de Olmos established a mission and monestary in the delta region. The Spanish settlement of San Luis de Tampcio was founded on the site in 1554.[1]
Abandoned due to frequent pirate attacks for nearly 150 years, the present city of Tampico was founded on April 13, 1823 after Mexico gained independence from Spain and became an important port and trade center.[1]
​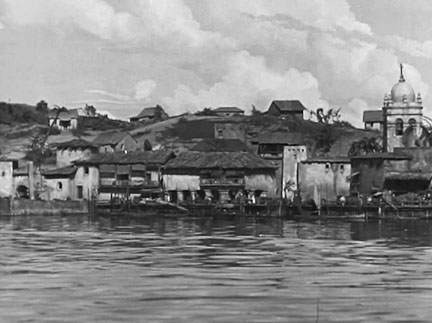 ABOVE: Tampico, Mexico, 1877.[2]
Escape to Tampico: In April of 1876,[3] Steve Corbett arrived in Tampico and established La Cantina Americana, where he learned he could escape extradition to the United States the theft of silver from the House of Gireaux and the murder of its master silversmith, Victor Gireaux.[2] In May,[3] he hired American singer Amy Lawrence to entertain his customers and soon fell in love with her. In June of 1877, Bret Maverick came to Tampico on an errand for Roul Gireaux to convince Corbett to return to America to answer for his crimes.[2]