Twin Bluffs
Cattle town[1] in Nebraska.[2]
Situated along the Tomah Stage route[1] in northwestern Nebraska. Named for the twin bluffs of Sheridan Gates.[2]
Originally settled in the years after the Civil War by opportunistic cattlemen who discovered the prairies of the Nebraska panhandle could support local herds, rather than driving them north from Texas and other distant grazing lands.[2]
The fledgling cattle ranches in the area could command lower prices and fatter cattle to the nearby military agencies and Indian reservations.[2]
​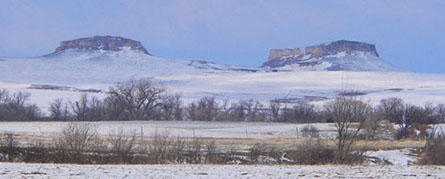 ABOVE: The site of Twin Bluffs today, looking east towards Sheridan Gates.[2]
Stage West: In June of 1875,[2] Sam Harris brought a nugget to the assay office in Twin Bluffs that ran ninety percent pure gold. When the word got around in July, local rancher Mart Fallon and his sons, Wes and Rip, decided they wanted a share in his gold strike, so they tracked Harris and his partner, Matson, into the Black Hills where the mine was hidden on Sioux land. A few weeks later, a Tomah stage returned to Twin Bluffs from east of town to report finding the west-bound stage destroyed by Sioux with driver, passengers and horses all killed. Twin Bluffs' Sheriff Tibbs organized a posse to investigate. They tracked the Sioux back along the stage route to the Packsaddle Station, where they found Wes Fallon dead and Mart and Rip Fallon held at gunpoint by Bret Maverick. Tibbs arrested Mart and Rip for their involvement in Wes' murder of Sam Harris and Matson. At the trial held in Twin Bluffs, Mart was sentenced to seven years in prison while Rip was found innocent and released to return home to run the Fallon Ranch.[1]
Today, the site of Twin Bluffs is uncultivated, covered by rain-fed croplands, with only vestiges of old roads and trails that once led to the center of town.[2]