Vermillion
River town at the confluence of the Missouri and Vermillion Rivers in southeast Dakota Territory.[1]
Originally established as a trading post for French fur trappers in the 18th century. Named for the red appearance of the Vermillion River.[1]
On August 8, 1844, a group of Mormons seeking a new home became the area's first white settlers. By 1860, with the removal of the local Indians to the Great Sioux Reservation opened the area up to homesteaders[1] and began to thrive.[2]
With the Black Hills Gold Rush in 1876, Vermillion became a supply depot for mining goods and equipment. Daily wagon trains were organized to haul gold seekers and their freight overland along the Missouri River to Fort Pierre and from there into the Black Hills.[2]
Stampede: In June of 1876,[3] two men robbed Vermillion's Wells Fargo office of $40,000 in gold dust. One of the men was killed in the escape, but the other man got away with the gold dust.[4] In April of 1877,[3] Bret Maverick and Dandy Jim Buckley uncovered the gold dust, buried across the Missouri River in Whiskey Flats,[4] Nebraska.[3] They returned the gold dust to the Wells Fargo office in Vermillion for a ten-percent reward.[4]
​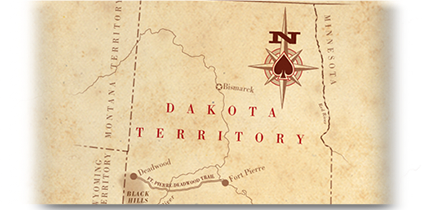 ABOVE: Vermillion, Dakota Territory, c1880.
In April of 1881, the Missouri River overflowed in a great flood, washing away three quarters of the town. Vermillion was rebuilt above the bluffs to avoid destruction on future floods.[2]
Today, Vermillion is the home of the University of South Dakota, the oldest university in the state.[5]