Whiskey Flats
Farming town in Nebraska,[1] situated in the Mountain Meadow[2] within the bluffs along the Missouri River along the northeast border with Dakota Territory.[1]
Established on March 1, 1877 as a tent city, but confidently grew into a town of permanent structures within a month.[1]
​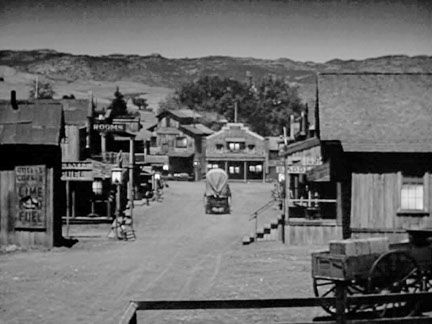 ABOVE: Whiskey Flats,[1] Nebraska, April 1877.[2]
Following Dandy Jim Buckley's map to $40,000 in buried Wells Fargo gold dust[2] in April of 1877,[1] he and Bret Maverick arrived at the Mountain Meadow prepared to uncover the treasure. In pacing off sixty paces due north from the meadow's Diamond Shape Falls, Bret discovered the town jail had been built directly over the gold dust. The next day, Buckley planted his watch in Bret's pocket and had the town marshal arrest him for pickpocketing. After the marshal locked the jail up for the night, Buckley passed a pick and shovel through Bret's cell window so that Bret could dig up the gold dust below. Bret uncovered the treasure and dug his way out from under the jail wall and escaped to return the gold dust to the Vermillion Wells Fargo office[2] across the Missouri River.[1]
The location of the Mountain Meadow proved to be too confining for broad farming. Isolated from nearby wagon roads, the community was too often passed by and the town failed to prosper. Homesteaders eventually moved into the wider and more accessible farmlands further from the river's bluffs. Today, the site of Whiskey Flats lies abandoned.[1]
See: Stampede