White Rock
Rural town in Texas,[1] visited by Bret Maverick in June of 1872.[2]
Named for the Austin chalk outcroppings in the region. First settled by Esram Tidwell in the 1850s as Tidwell Creek. In 1868, the town acquired a post office and changed its name to White Rock.[1]
​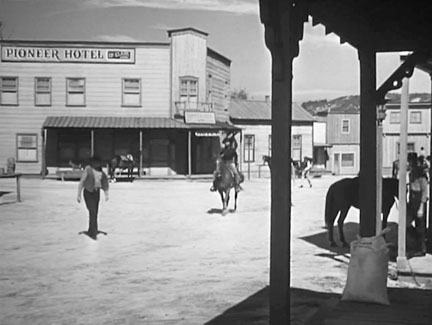 ABOVE: Bret Maverick rides into White Rock, Texas, 1872.[2]
In June of 1872, Bret Maverick tracked the Kid from Gunsight, Texas to White Rock after the Kid robbed him of $3,000 he had won in a poker game. Before Bret could confront the Kid, he had been shot and killed by Sideburns for calling him a cheat at cards. Shortly afterwards, Bret offered to take Mary Shane home late one night down a lonely road outside of town. Mary disappeared into the shadows while checking the safety of the road ahead. Returning to town to ask after Mary, he was told she had died nine days before. Retracing his path the next morning, he found the coat he had lent to Mary for warmth draped over her grave marker in the White Rock cemetery. Bret soon learned that Mary and Bert Nicholson, the town's undertaker, had faked her death to hide from Felton, an escapted convict who she suspicioned was traveling to White Rock to find her and $60,000 of stolen Wells Fargo money her husband had stolen in a train robbery the year before. Bret captured Felton and returned the stolen money for a $3,000 reward.[2]
By the late 1890s, White Rock's population had grown to 200. Expanding railroad service in the county led to a significant drop on population into the 20th century.[1]
See: Ghost Rider
ABOVE: The White Rock Cemetery, known as Celeste Cemetery today.[4]